State Senator 16th District
Jarrett Coleman
Jarrett Coleman was elected to the State Senate in November 2022 to represent the people of the 16th Senate District. He chairs the Senate Intergovernmental Operations Committee, the panel responsible for reviewing proposals to restructure and streamline state government. Coleman is also a member of the Communications and Technology, Consumer Protection and Professional Licensure, Education, Local Government, and Urban Affairs and Housing committees. He was previously elected to the Parkland School Board in Lehigh County, where he was a voice for parents seeking transparency, and taxpayers seeking an advocate to curb wasteful spending. Jarrett is working to return the government to serving the people. An airline pilot, Jarrett was born and raised in the Lehigh Valley and lives with his wife, Katie, in Breinigsville with their two children and dogs. He is a graduate of Embry–Riddle Aeronautical University with a Bachelor of Science in Aeronautics and a Master of Business Administration.
House Representative 131st Legislative District
Milou Mackenzie
Representative Milou Mackenzie is a lifelong resident of the Lehigh Valley and an eighth-generation Pennsylvanian. She is serving her second term as representative of the 131st Legislative District, which encompasses parts of Lehigh, Northampton and Montgomery counties. Mackenzie has been appointed to serve on three House committees during the 2023-24 Legislative Session: Children and Youth, Education, Housing and Community Development and Human Services. Mackenzie has lent her artistic talent to creating beautiful homes for many people in the Lehigh Valley and beyond, as the owner-operator of V. M. Mackenzie Interior Design, LLC for more than 30 years. Before establishing her small business, Mackenzie, who graduated from Nazareth Area Senior High School and earned a B.A. in English from Cedar Crest College in 1972, had years of teaching experience in several local school districts and in a private school in Allentown. Mackenzie continues to use her knowledge of the classroom to stand up and work hard to ensure Pennsylvania students receive a quality education, while still respecting the concerns of the taxpayers. These are both top priorities. Mackenzie is married to Kevin Brown, a graduate of the U.S. Naval Academy and a veteran. She is a mother of two sons and a grandmother of three. She and her husband live in Lower Saucon Township.
House Representative 183rd Legislative District
Zach Mako
Fighting for property tax reform, job creation and infrastructure improvements, Rep. Zach Mako is serving his fourth term in the Pennsylvania House of Representatives. Zach currently serves on the Appropriations, Finance, Professional Licensure, and Veterans Affairs and Emergency Preparedness committees. A graduate of Northampton Area High School, Zach joined the Pennsylvania National Guard in January 2008. As a Chinook helicopter pilot, he was deployed to Afghanistan in December 2012 for nine months supporting Operation Enduring Freedom. In 2016, he was selected to be an adviser to Estonia's top military officials. Three years later, he was deployed to the Middle East to serve as part of Operation Freedom's Sentinel. While serving our country, Zach also completed his bachelor's degree in finance from Kutztown University in December 2015. In 2023, Zach earned his master's in business administration with a concentration in international affairs from Pennsylvania State University. In his spare time, Zach enjoys participating in outdoor activities, including hiking and snowboarding. Zach lives in Walnutport with his wife, Brittany. The 183rd District includes Lowhill and North Whitehall townships and Slatington Borough in Lehigh County. It also consists of Allen, East Allen, Lehigh and Moore (part) townships, and Bath, North Catasauqua, Northampton and Walnutport boroughs in Northampton County.
House Representative 187th Legislative District
Ryan Mackenzie
Ryan E. Mackenzie is a member of the Pennsylvania House of Representatives serving the 187th Legislative District (parts of Lehigh County). During the 2023-24 Legislative Session, Ryan has been appointed to serve as Republican chair of the House Labor and Industry Committee. In previous sessions Ryan has served as majority chair of the House Government Oversight Committee, deputy majority whip, deputy chair of the House Majority Policy Committee, vice chair of the House Labor and Industry Committee, chair of the Financial Services and Banking Subcommittee with the House Commerce Committee, and chair of the Workforce Development Subcommittee with the Economic Recovery Task Force. Ryan began his career by working on a number of political campaigns and earned his real estate sales license before entering public service and accepting a position at the U.S. Department of Labor. While there, he worked extensively on domestic and international assignments and gained a strong understanding of labor market dynamics.
Ryan is a ninth-generation resident of Pennsylvania, where his family has lived since colonial times. He graduated from Parkland High School, received his undergraduate degree in Finance and International Business from New York University, and earned his Master in Business Administration from Harvard Business School. Ryan has continued his education by completing programs for state government officials at the University of Virginia's Darden School of Business and the University of Pennsylvania's Fels Institute of Government. An active member of the local community, Ryan is involved in a number of charities and non-profit organizations. He currently serves on the board of the Greater Lehigh Valley Chamber of Commerce, the executive council of the Lehigh Career & Technical Institute, the community advisory committee of the Autism Resource Hub of Lehigh Valley, and is a board member of the AHEPA #60 Apartments that provide affordable housing for seniors.
Lehigh County Commissioner District 1
Antonio A. Pineda
Antonio Pineda was elected Lehigh County Commissioner in 2021, representing District 1. He is a lifelong resident of Lehigh County and a graduate of Whitehall High School. Antonio attended Columbia University, where he earned his degree in Earth and Environmental Engineering, and currently works locally in the cement industry for Buzzi Unicem USA. As a Lehigh County Commissioner, Antonio serves on the Administrative and Human Resources, Finance, Governance, and Human Services committees. He is the board liaison to the Wildlands Conservancy and the Lehigh Valley Zoological Society. Antonio has a passion for volunteering and giving back to his community in any way he can. He is the Vice President of the Whitehall Active Community Center, which provides services to the local senior citizen community. Also, Antonio serves on the Whitehall Township Environmental Advisory Council and is a member of the Rotary Club of Slatington. In addition, Antonio has volunteered his time with the Whitehall-Coplay Middle School Science Olympiad team and previously served as a football coach at Louis E. Dieruff High School. Antonio married his wife, Carrie, in 2019, and they reside in Whitehall Township
Lehigh County Commissioner District 2
Ron W. Beitler
Ron W. Beitler was elected to the Lehigh County Board of Commissioners in 2021 after serving as a Lower Macungie Commissioner for 8-years, the last 4 as board President. He is a lifelong resident of the area, graduate of Emmaus High School and proud State System of Higher Education Alumni earning a Bachelor's Degree from Slippery Rock University in 2005. Ron's focus in local government for nearly a decade has been land use planning, farmland & open space preservation, environmental stewardship, keeping taxes sustainably low and government transparency. During Ron's time in Lower Macungie the Board of Commissioners undertook and implemented a historic open space preservation program, won multiple Lehigh Valley Planning Commission awards, participated in a multi municipal comprehensive plan update and dramatically re-envisioned its zoning code to encourage economic growth within a smart growth framework. Ron served as a municipal member of the Lehigh County Farmland Preservation Board for 4 years. In his professional life, Ron is co-owner of two local small businesses. His second and most recent venture was opening Rising River Brewing Co. a brewery in a refurbished 120 year old barn in 2021. He's a past Lehigh Valley Business 40 under 40 honoree and has served on non-profit boards. Ron resides in the Village of East Texas neighborhood of Lower Mac with his 5 year old daughter Cecilia. When he has free time he travels, plays basketball, drums and goes to concerts. Ron is very proud to represent Lehigh County District 2 which includes Alburtis Borough, Lower Macungie, Upper Macungie and South Whitehall Townships.
Lehigh County Commissioner District 5
Jeffrey Dutt
Lehigh County Commissioner, Jeffrey Dutt, was appointed to the board in November 2020 to represent District 5 in the county. He is a lifelong citizen of Lehigh County, graduating from Whitehall High School in 1986. He went on to earn his Bachelor's Degree in Social Work from Mansfield University in 1990. He then earned his Master's Degree in Special Education from Lehigh University in 1993. Commissioner Dutt has dedicated his professional life to serving his community. He has been a Special Education and History teacher in the Allentown School District, at both William Allen and Louis E. Dieruff High Schools. He has been a teacher in the district for the past 18 years. He has also served his hometown of Whitehall by being elected to the Board of Commissioners in 2015. While serving his community, he helped start a senior center in the township in 2016 and served on many different committees, including secretary for the Veterans Memorial Committee, the MacArthur 75 Committee, as well as the Heritage Day Committee. Commissioner Dutt will continue to work for farmland and historic preservation, fiscal responsibility, and develop solutions to the unique issues faced in our county today. He has lived in Emmaus since 2019. He met his wife, Nancy, in 1990, and they have been married for the past 27 years.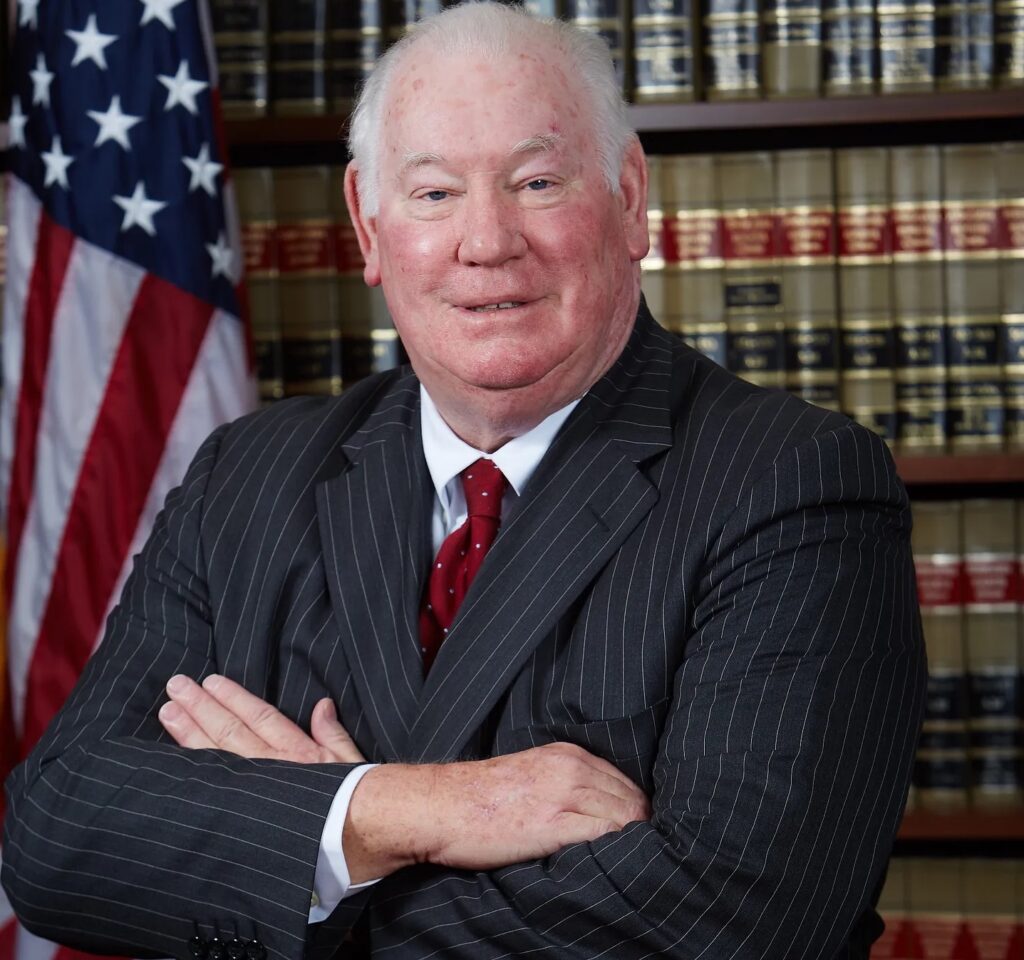 District Attorney
James B. "Jim" Martin
James B. "Jim" Martin is the longest serving district attorney in the history of Lehigh County. He has been district attorney since January 1998 when he was appointed by the County Commissioners. He has been elected to six four-year terms in 1999, 2003, 2007, 2011, 2015, and 2019. Martin has 30 years' experience as a prosecutor and more than 47 years' experience as a trial attorney. He is past president (1986) of the Bar Association of Lehigh County. From 2000-2012, he was a member of the Executive Committee of the Pennsylvania District Attorneys Association and was president of the Association from2006-2007. He is a past president of the Pennsylvania District Attorneys Institute, the educational and training arm of the Pennsylvania District Attorneys Association. Martin is a past member (eight years) of the Governor's Victims Services Advisory Committee of the Pennsylvania Commission on Crime and Delinquency and also had served on the Commission for Justice Initiatives, which was a Pennsylvania Bar Association and Pennsylvania Supreme Court joint commission which established templates for "Problem Solving" courts, including "Drug Courts." Martin manages a budget of over $13.4 million that includes about $5 million in grant money, forfeitures reimbursement and generated revenue. He supervises more than 125 people – attorneys; administrative staff; a victim/witness unit; county detectives; homicide, drug and auto theft/insurance fraud task forces; the Regional Intelligence and Investigation Center (RIIC); the Officer David M. Petzold Digital Forensics Laboratory of Lehigh County located on the campus of DeSales University; and the Central Booking Unit.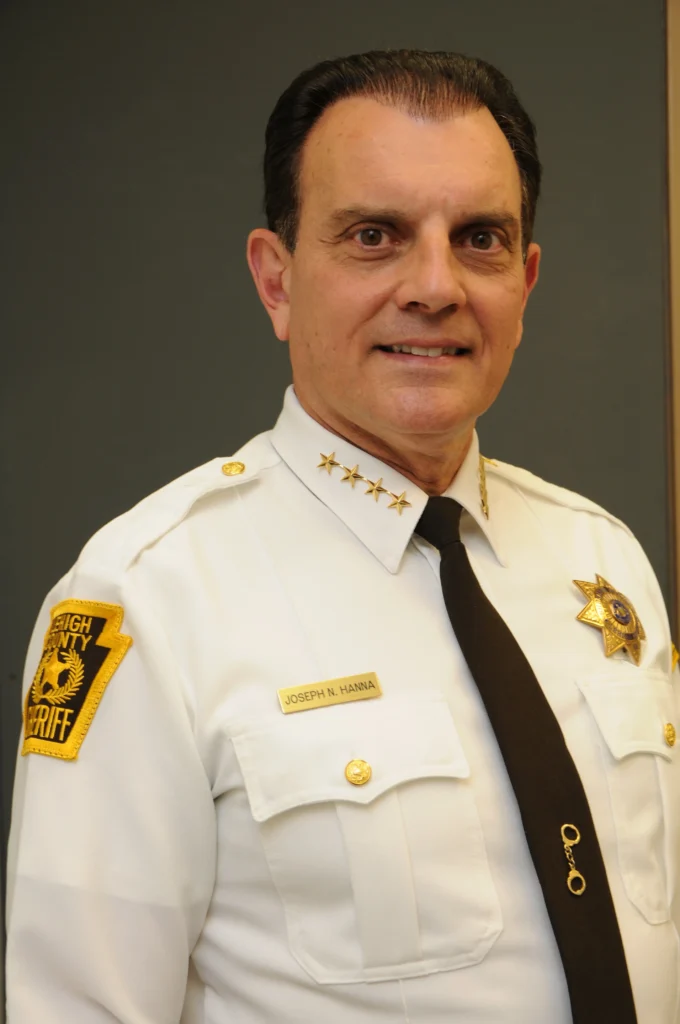 County Sheriff
Joseph Hanna
Lehigh County Sheriff Joe Hanna was born and raised in Allentown PA. and has been a lifelong resident of Lehigh County. Educated in the Allentown Public School System, he continued his higher education at Moravian College, Bethlehem, PA. earning a Bachelor of Arts Degree in Criminal Justice in 1978. In 1979 it was with great pride that he joined the ranks of the Allentown Police Department. Over the next thirty-four years he worked his way through the ranks from Patrol Officer to Allentown's top cop, Chief of Police. With a desire to continue in the law enforcement sector of public service, upon retirement Sheriff Hanna transitioned to the Lehigh County District Attorney's Office as a County Detective. There he headed a wide array of investigations. Committed to advanced law enforcement training and education, Sheriff Hanna himself is a graduate of the premier Northwestern University School of Police Staff and Command and the U.S. Department of Justice FBI National Academy. He served as Director of Training at the Allentown Police Academy where he continues to be a part time adjunct instructor for police recruits. During his law enforcement career, Sheriff Hanna has earned recognition as a top law enforcement professional and has received numerous awards including the Allentown Crime Watch Police Officer of the Year and the prestigious Pennsylvania State Police Colonel John K. Schafer award for professional excellence. Sheriff Hanna prides the title of "Public Servant" and in his spare time serves on the boards of various non-profit Community and faith based organizations in Lehigh County. He is a 2019 recipient of the Casa Guadalupe Outstanding Service Award. In 2019 he was inducted into the Dieruff High School "Wall of Distinction". He and his wife Randy Anne have been married for thirty-nine years and have two children, Jared, an Assistant District Attorney in Lehigh County, and Michelle, who is pursuing her PhD. in Psychology.